Vietnam Timeless Charm
Social Media in Vietnam
Social Media Use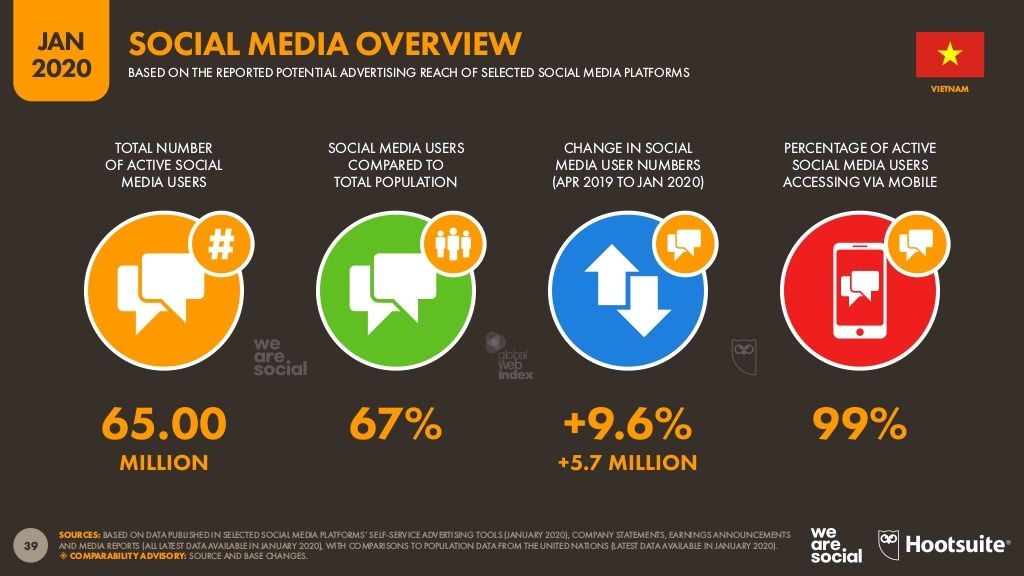 Starting from slide 39 is an overview of user behavior on social networks. There are 65 million active social media accounts out of a total of 96 million people, equivalent to a penetration rate of 67% and they spend 2 hours and 22 minutes a day on social media.
According to the report, on average, each Vietnamese person has about 9 social networking accounts (Facebook, Instagram, Zalo, Skype, YouTube, etc.). On a monthly average, a Vietnamese social media account will like 1 page, 9 posts, comment 8 times, share 2 posts and click on ads 17 times. And women always have a higher interaction rate than men.
The most popular social networking channels in the world today are Facebook, YouTube, WhatsApp, Messenger, Wechat, Instagram, TikTok. In Vietnam, Zalo is in the top 5 most visited social networks, standing with Messenger, behind Facebook and YouTube with Instagram, TikTok, Twitter, Skype, and Viber.
It can be affirmed that Facebook is still the most popular social platform in Vietnam, so marketers regularly choose it for their marketing campaigns. Digging into Facebook data, you can read many specific metrics from Facebook Ads, such as there are 61 million accounts reachable by Facebook Ads, equivalent to 79% of the population over the age of 13, which means that we can reach more than 80% of the target audience over 13 years old in Vietnam. In addition to Facebook, Instagram and TikTok are experiencing very significant growth. It can be seen that Internet users are tending to differentiate the use of separate social networks rather than just using Facebook like 5 years ago.
(Source: Social Media Use from Digital 2020: Vietnam by WeAreSocial and Hootsuite)
|